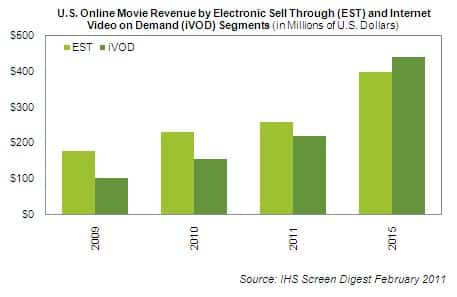 In an August 25th, 2011 VideoNuze post, Will Richmond crunches the numbers from a recent report on the online movie market.
The data from the top 5 U.S. digital/online movie stores (representing about 99% of online movies sales and rentals on a movie-by-movie basis) for the first half of 2011 shows that very few consumers (in the scheme of things) are actually using these services.
The data, collected by IHS Screen Digest Media Research, shows that demand for movies via digital purchase/download and rental is just a fraction of the numbers being generated by Netflix.
Purchase/download is also known as Electronic sell-through (or "EST") and online rental is also called Internet video on demand (or "iVOD").
IHS found that in the first half of 2011, total EST and iVOD revenues on the top five services - iTunes (the category leader with close to 2/3 of market share), Zune, Vudu, Playstation, and Amazon - equaled only about $229 million, with the amount roughly split between the two (EST of $118 million and iVOD of $111 million).
These numbers may sound large (a hundred million dollars is still real money) but they are just a fraction of the multi-billion dollar DVD market.
Compare (for example) the $4.7 million made by Amazon (before expenses) for iVOD rentals in the first half of 2011 with Netflix, which had over 24 million U.S. subscribers as of June 30th. 2011 and total revenues of nearly $800 million.