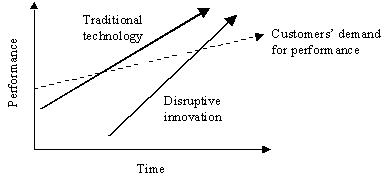 What is disruptive innovation?
It's a business term that is used to describe a change - often in how things are produced (e.g., the assembly line for cars). Sometimes a disruptive innovation can be as simple as a change in how products are delivered (e.g., Netflix moving from DVDs to online streaming) or marketed. Or a disruptive innovation can be a change in the way that people interact (e.g., social media, instead of email, which itself was a disruptive innovation replacing phone calls and letters).
In general, a disruptive innovation allows new sellers (and older businesses that are quick to adapt) to reach a new market - often with disastrous consequences for slow-moving legacy companies.
In the new digital world, where all sorts of Old World business models are under attack, any incumbent who fails to understand a significant disruption can become irrelevant almost overnight. (Filmmakers are experiencing these changes, as are newspaper workers, Post Office employees, etc.)
Two common errors made in times of disruptive innovation?
1) Being overly satisfied with the old ways, and
2) Underestimating the value of the new.
As the former head of the Tribeca Film Institute, Brian Newman has given a lot of thought to the disruptive innovations roiling the indie film world. On
May 29th, 2012 Brian Newman added a must-read post, Disrupted: Indie Filmmakers, to his sub-genre blog
. Brian's May 29th, 2012 blogpost is basically a wake-up call for indie filmmakers.
Brian Newman starts his post with two simple, but provocative, questions:
Why are you still focused on directing a feature that will play at a big festivals?
Ever heard of
Freddie Wong
?
Then Brian Newman moves to his fundamental point: There are new opportunities (online) that indie filmmakers need to understand to prosper in the New World of digital distribution.
Here are two representative excerpts from
Brian Newman's important post
:
"While the old school indies (even, and importantly, the young ones) have embraced new technologies such as cheaper cameras and new methods of editing, they've been slower to embrace the real change from digital - the direct connection to their audience."
"Time and again, I see it - filmmaker makes interesting short. They don't have a good website for themselves, have no presence on YouTube and valiantly spend more cash on festival entry fees than you can imagine. If they are lucky, the get into some festivals, but a year later, they still haven't bothered to put it online. They've been seen by perhaps a few thousand people in theaters, have maybe amassed an email list of 50 names and 200 people have liked their film on Facebook. Five years from now, they'll probably have two features under their belt, and if they're really lucky, one of those films will get picked up and play one week at IFC Center to about 2,000 people total and then be on VOD and DVD for perhaps another 5000 viewers. They still won't know who their audience is or how to reach them."
If you're an indie filmmaker, please read
Brian Newman's Disrupted: Indie Filmmakers blogpost
. It may give you some ideas about what you can do (i.e., forging a direct connection to your audience) to prosper in this era of disruptive innovation.