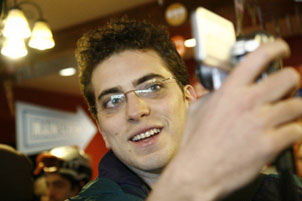 Click here to hear an audio file of a panel recorded and posted by panelist Brian Chirls (pictured above) at the Independent Film Festival Boston (April 2009) entitled, Followers: How Filmmakers are Building Their Audiences Online in the 21st Century.
In addition to technologist and filmmaker Brian Chirls, the panelists were:
Scott Kirsner (moderator) author
Chris Holland Director of Festival Operations at B-Side and author of Film Festival Secrets.
Sean Flynn producer and cinematographer at Principle Pictures.
Topics:
Benefits and pitfalls of social networking (Facebook, MySpace, Twitter, etc.)
Strategies for reaching audiences before, during and after production
Crowdsourcing to build audiences as well as help production
How much of your content to post online for free
Ad revenue models
Distribution formats (DVD, download, streaming, theatrical, etc.)
Applying all the above to other media such as music and art